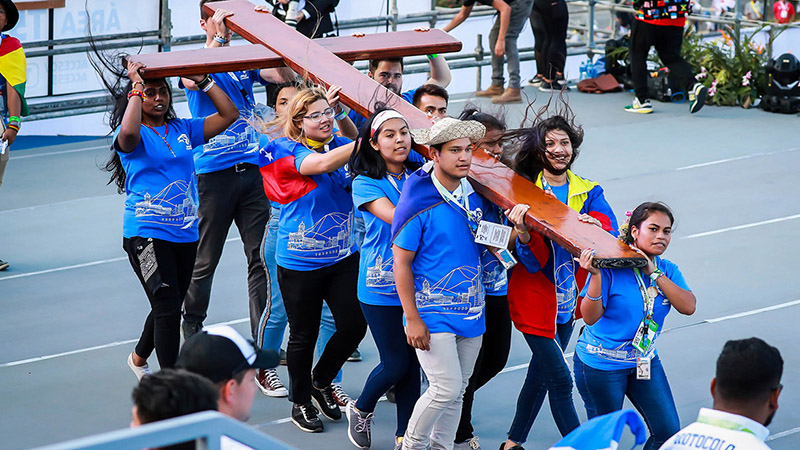 Young people are not only the future, they are the people of the present
Interview with Sr. Lolia Annie on the World Youth Day event in Panama City in January 18-27th
Interview with Sr. Lolia Annie, a Central Team member of the Youth Ministry, in the Institute of the Daughters of Mary Help of Christians, on the World Youth Day event in Panama City in January 18-27th.
Sister Lolia, you participated the world youth day in Panama. What are your impressions?
Sr Lolia: Having participated and shared in the life young people in a unique way, during the GMG celebration at Panamá, I am more convinced that young people are very spiritual, religious, they are truly a gift to the church and to the world, they are capable of generating dynamism, enthusiasm, vibrant and fresh energy in the church. My conviction and impression is that young people are not only the future, they are the people of the present, protagonists and cream of the church and the society today.
What are the expectations of youth from the adult members of the Church and what was your experience with them, after the Synod ?
Sr Lolia: The young people expressed their desire to be listened and to be accompanied. Yes at the GMG, it was a special opportune to meet and encounter many young people. We are from different parts of the world we met each other as strangers but parted as friends, because in the world of the young people there are no barriers, only bridges to cross over from one to another. I have encountered, talked to and listened to many young people and so too many other adult members and in these encounters, I have learnt many things from young people. They are resourceful people capable of building a better world, let us trust them and empower them.
As a daughter of Mary help of Christians, how is your experience of accompanying young people?
Sr Lolia : According to me, accompanying the young is to be there with them where they are and take them as they are. For me personally accompanying the young is a very enriching experience. One of the most recent examples can be seen from the message of the young people who participated in the GMG and MGS at the world level sharing their experiences with other young people of the world who were not there physically. We as FMAs and SDBs we were there with the young people facilitating ,encouraging, motivating them to write it down what they had experienced, lived and want to share with other young people of the world and they came up with very powerful message. A quote from their message… Youth is a gift. It is a precious time of our lives when we can discover who we are, our talents and gifts, our weaknesses and struggles; as well as to discern our vocation, be it religious or lay. We all have a mission for our lives. Individually, each one of us has a journey, but it's journeying together that allows us to be part of the ultimate mission, the path to Christ. Jesus was young too, and it is the young Jesus we journey with… My experiences of accompanying the young is reciprocal, we learn from each other.
Your message from this experince of MGS world level celebration at Panama !
Sr Lolia: As expressed in the previous questions my experience with the young people is always enriching, ever new and every time I am more energised with their youthful vibration. For us FMAs, MGS is like; life wire in our mission among the young, MGS is present in all our educative ambient. Let us live our life as authentic FMAs, and make our charism ever new and relevant at all times.
25 febbraio 2019